The match against 2nd place Crook was played on a blustery Halloween & the Stan Army were wondering if they would get a trick or treat. They had to be content with a bit off both although they nearly had a chill down their back due to sustained late pressure from the visitors. There were 2 changes to the Stan team with Waters & Wilson replacing Blackbourne & Johnson. There was a capacity crowd again & unfortunately, due to the imposed restrictions on spectator numbers, a large number of fans were locked out.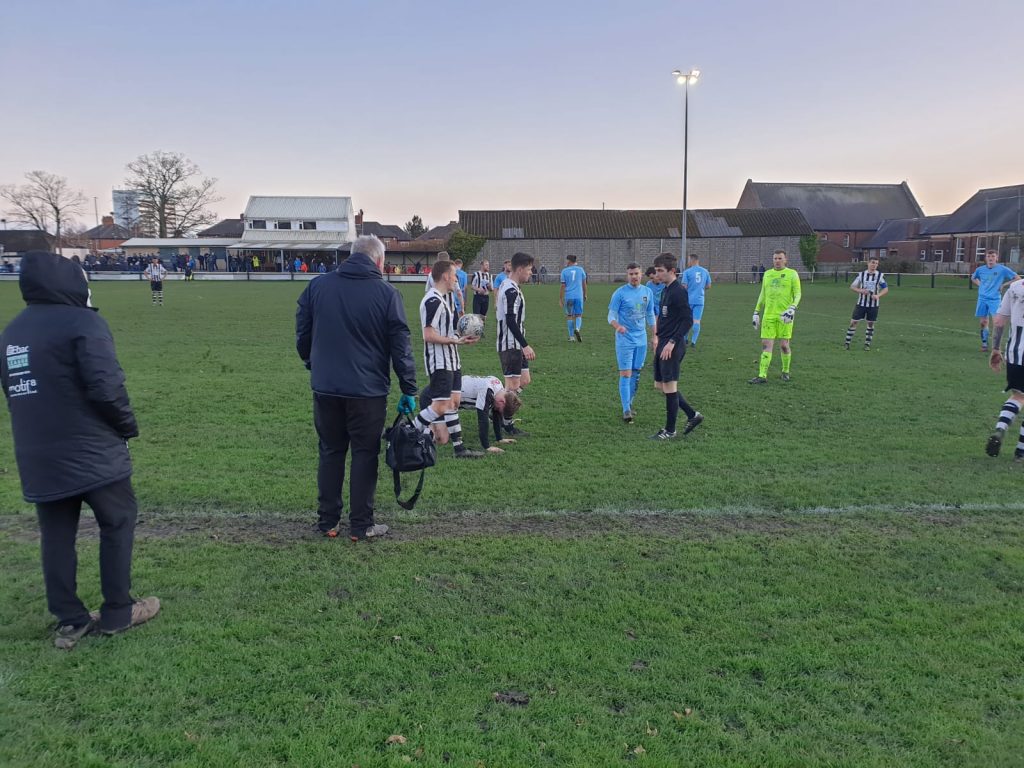 The sun came out for kick off with the match being filmed by Sky. After 3 minutes, Crook had 3corners with the 1st headed out then Regan dealt with the others in his usual professional manner. Not much happened in the 1st 20 minutes although the Stan did have 4 ventures forward which the Crook defence dealt with. The 1st Stan corner in 20 minutes was easily cleared before Carr's long range effort went over the bar. Regan then had to punch away a Crook effort & Waters then cleared over the bar although the flag was up for off–side.In 27 minutes, Proctor's shot was blocked & Carr'slong range follow up effort was dealt with well by Arthur the Crook keeper. 3 minutes later, the Stan came close from a corner when Imray headed backwards in the 6 yard box but Arthur blocked. A late bad tackle on Wilson in 36 minutes should have seen Crook's Eltringham sent off but he only received a yellow. 2 minutes later and Regan made a great block from a Crook shot then Carr had a shot blocked at the other end. Just before half time, Wilson broke through, but the Crook defence dealt with him well. The half had been a relatively even affair with both sides trying to attack but with few real chances for either.
The 2nd half started with Leech having to head clear. After a quiet few minutes, there was a bad tackle on Hoggins & Crook were guilty of a few more throughout the match. After another quiet spell Proctor was brought down as the Stan attacked in 55 minutes but nothing was given. Crook countered but shot wide across goal. 2 minutes later a Crook player was free but shot wide. In 61 minutes, 2 Stan corners were cleared & in 64 minutes a Kerridge free kick was headed out for a corner. Crook then shot over. Stan physio James Colwill was initially red carded for pushing a Crook player but was allowed to return to the dugout in his capacity first aider & physio. Just when it looked like the match might end up goalless there was an opportunity for the Stan in 70 minutes. A long Stan free kick saw Arthur parry the ball but then brought Hoggins down in the box as he tried to retrieve it. Kerridge, who had worked hard, took the penalty & sent the keeper the wrong way. The goal seemed to encourage the Stan further & 2 joined up attacks saw a Carr effort blocked followed by a Kerridge free kick only just being stopped by Arthur.
The last 10 minutes saw almost constant pressure by Crook & the Stan were forced on the defensive but dealt with this role effectively for most of the time. Leech was working hard & made a good block in 81 minutes. Hoggins shot wide but it was then back to Crook who also shot wide then Blackbourne got back to clear off the line. Therewere 2 corners for Crook & they should have scored in the crowded box but their player shot wide. In 86 minutes the Crook pressure paid off when Regan parried well in the crowded box but a Crook player managed to head into the net for 1-1.Crook sensed the opportunity to snatch all 3 points & forced the Stan defence to make a number ofblocks. In the 90th minute Crook hit the side netting & the Stan were looking increasingly vulnerable. The Stan did get a rare attack instigated by Carrbut sub Dixon's effort was saved. In 92 minutes, a Crook effort was blocked allowing Wison & Hoogins to counter but the defence dealt with it well. The match ended though with more Crook pressure including them shooting wide.
Overall, a draw was a fair result although both teams had chances to snatch all 3 points and, as the match went on, especially the visitors. The players could now go home to carve their pumpkins spookily knowing that they would probably have more time for such activities if the beautiful game is again suspended due to covid.
Kevin Mochrie