The rain fell at Grounsell Park once again, after a drenching in midweek, but Heaton Stannington could not replicate their winning formula as another bumper crowd of 150 watched on.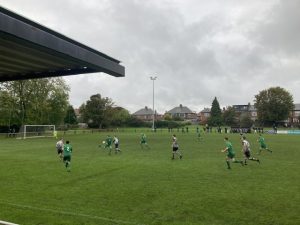 Stan scored first through Dean Imray. The visitors then replied through Connor Slack. In the second half, Easington added two goals through Josh Home-Jackson, before substitute Richie Hoggins scored a late consolation for the Stan.
Stan made four changes to their starting line-up: Ryan Bailey,Kevin Carr, Joe Blackbourne and Michael Leech all back in the starting side, for Lewis Burns, Connor Campbell, Michael Hall and Josh Miller.
It was the opening five minutes that set the tone for the game as a whole; both sides were battling for possession and each trying to create their own chances. That being said, the first goal did not come until the 38th minute, thanks to Dean Imray.Jon Wright's driven freekick was deflected to the back postwhere captain Imray was on hand to finish.
The lead did not last long; in the 45th minute Easington striker Connor Slack scored the equaliser. Liam Adamson, whose pace and dribbling was a threat all game, bombed down the left before squaring it to Slack who had a tap-in.
Barely a minute later, Stan had a penalty after Josh Wilson was tackled from behind by Jak Ashton. Jon Wright stepped up but fired wide.
The second half started in a similar vein to the first; a good move was started by Ryan Bailey passing to Kevin Carr who found Regan Paterson whose shot was saved by Ben Reynolds. Three minutes later, Dan Regan made two excellent saves in as many minutes, including a Lee Chapman freekick.
Regan made the best save of the night on 60 minutes, with a strong hand he pushed behind a fierce strike from Josh Home-Jackson for a corner kick.
In the 70th minute, Stan had a flowing attack with Bailey giving it to Paterson, who found Wilson, whose ball to the back post for Jon Wright was expertly cleared by Jak Ashtonin the nick of time.
Easington scored their second goal after Lee Chapman's freekick was met by captain Josh Home-Jackson who headed home for 2-1 in the 75th minute.
Four minutes later, Home-Jackson scored his second and Easington's third of the night to win the match. Ross Simpson was deemed to have fouled an Easington attacker in the box and was booked. The opposition captain made no mistake in finding the bottom left corner.
It was a case of too little too late when substitute Richie Hoggins scored Stan's second in the 93rd minute. A long ball from Dan Regan finally paid off, with Hoggins stabbing the ball past Ben Reynolds, flattened by the goalkeeper as the strike had just another pace to take it over the line.
Declan Wiseman