The last match before the 2nd lockdown saw the Stan travel to Birtley but, unlike the fireworks going off all around, they did not go out with a bang but rather nearly fizzled out by the final whistle. A make-shift team saw 5 changes with Dixon, Blackbourne, Wright, Paterson, and Burns replacing Leech, Waters, Hall, Wilson, and Kerridge. Versatile Hoggins was moved to central defence. Unfortunately, ex Stan hero Josh Holland was on the bench for Birtley.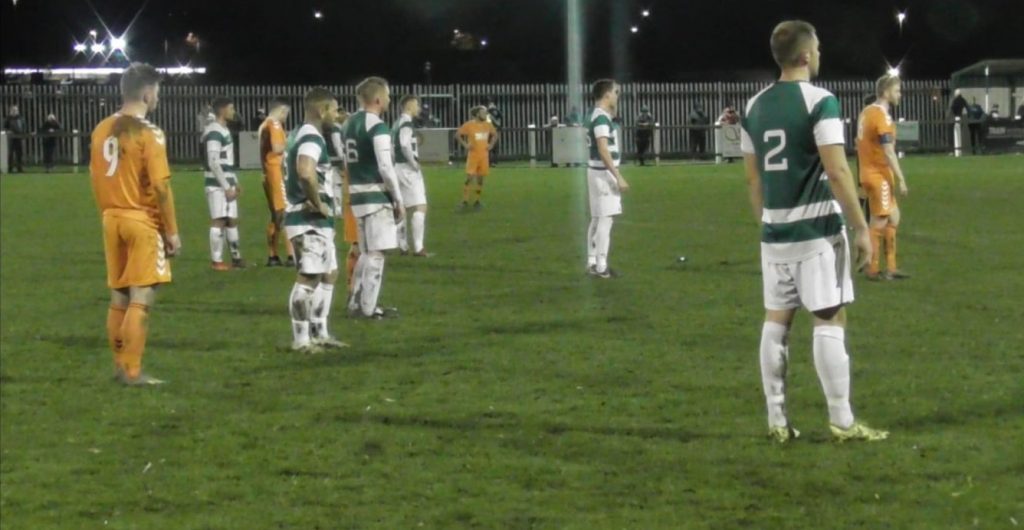 The conditions were good, on a pleasant dry evening with the Stan advancing 1st but then Birtley almost immediately getting the 1st shot which was cleared. In 3 minutes, Wright broke free and crossed to Paterson who passed to Carr whose shot from the edge of the crowded box was blocked. Wright was looking dangerous but, unlike the trains on the east coast mainline behind the ground desperate to get people to their destinations before lockdown, he was increasingly late as the match went on. After 6 minutes, an Imray shot was deflected for a corner. From it the ball was headed away to Carr who passed to Paterson on the left who twisted past a defender and shot from a tight angle into the left corner of the net to make it 1-0 to the Stan after 7 Minutes. What a goal! Things got quieter after this until Birtley had an effort on target but offside in 12 minutes. Both sides continued to try to attack with Birtley coming closest when they shot wide in 19 minutes. After that there was a period of sustained Stan pressure, with Burns working hard, until Regan had to stop a Birtley effort after 25 minutes. Proctor shot wide in 29 minutes followed by a Birtley free kick being cleared then Regan easily stopped the follow up shot. After another quieter spell, in 35 minutes Regan saved a Birtley shot followed by a Wright lob which was easily caught. The Stan were getting a lot of opportunities, but they often came to nothing as they failed to utilise on them including losing possession and this was a relatively common theme throughout the match. In 38 minutes Regan got down to stop a Birtley long range effort but it went under him for a corner which was cleared. The Stan countered but again it came to nothing and the chance was wasted. Wright broke free in 41 minutes and was hacked down but nothing was given. Birtley then saw the ball deflected across the Stan goal but went out for a goal kick
There was home pressure from the restart with Regan having to catch from an early corner. The Stan broke free twice in 50 minutes but with no resulting shot. A minute later and Burns won a corner. From the 2nd corner, Burns had a header blocked. Birtley countered but shot wide under pressure. Proctor was then brought down and the resulting free kick from Carr was cleared to Paterson who twisted and turned into the box before passing to Proctor who was blocked. Birtley again countered but were blocked on half way which earned Blackbourne a booking. 2 minutes later a Birtley corner was headed clear. The match was getting scrappy as a Birtley cross come shot hit the bar in 58 minutes. After a period without any Stan pressure, Burns made a run in 62 minutes but was eventually blocked. Wright then supplied Proctor who made a great run up the wing before being hacked down but the culprit was only yellow carded. Burns was still working hard all over the pitch but it was Wright who had the next effort in 72 minutes when he ran down the left and skimmed the bar with his shot. Wright wasted the next effort before Birtley countered and forced a corner. The Stan then attacked again but Proctor was offside. Birtley then had a shot blocked and were beginning to look hungrier. In 78 minutes though, Wright sent a great cross to Carr who put the ball over the bar when he should have scored. Both teams were trying to attack. In 82 minutes Wright shot over when he should have passed. He was then booked for kicking the ball away in the Birtley half. From the free kick, Birtley went up the pitch and Holland bundled the ball into the net for the equaliser in 83 minutes. The remainder of the match saw the Stan defend deeply as they tried to prevent Birtley snatching a late victory. There was some good defending although things also began to get scrappy again as the match entered added time. Birtley continued to put pressure on the Stan and in 92 minutes there were 2 clearances from a corner. Wright then broke free but was off-side. Carr and Proctor then set up Wright who went down under pressure in the box but nothing was given. A final Birtley counter attack was blocked by Hoggins before the final whistle.
Like Saturday, the Stan gave away a lead to just hold on to a draw but again 1-1 was probably a fair result overall although the main problem was the wasted opportunities by the Stan throughout the match.
Kevin Mochrie